Together, we can!
Waste Warriors have been actively building solid waste management systems for rural communities in Himachal Pradesh and Uttarakhand since 2012, with the support of local youth and women-led self-help groups.

With the vision of a 'Clean India' and a focus on changing behaviours towards waste and the environment, Waste Warriors develops livelihood to improve and empower the lives of waste workers, while healing the environment, one day at a time!
Your Contribution
Every purchase you make will help remove around 9 plastic bottles from Indian rivers through Waste Warriors.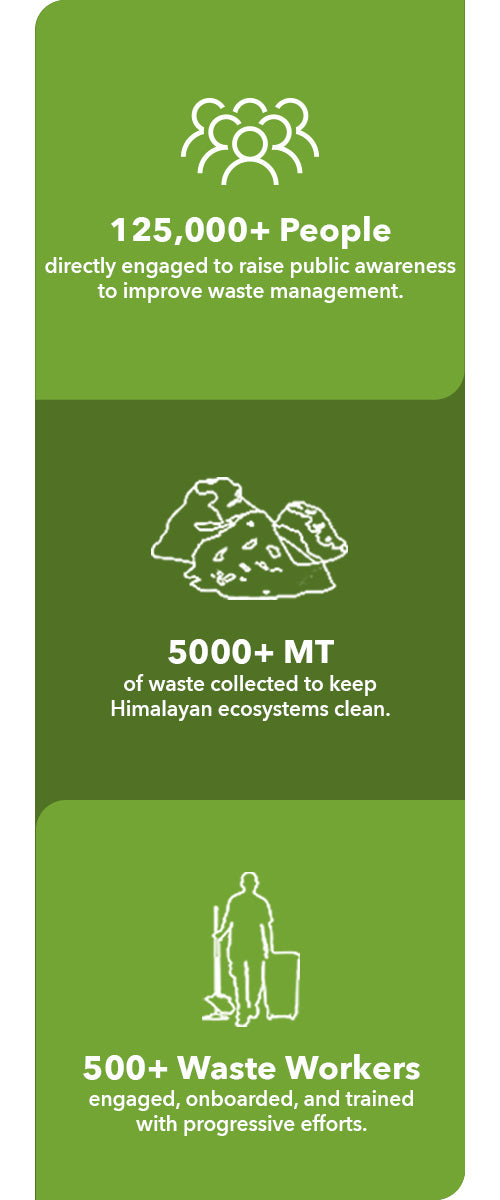 Waste Management
Tourism related activities generate 8.4 million MT of waste per year in the Indian Himalayan Region. Over 60% of this is dumped or burnt in the open. Burning of waste can lead to a 20% increase in risks of cancer. Waste dumping disproportionately affects marginalised communities & poor neighbourhoods. Microplastics found in water & salt can lead to disrupted digestion & immune response.

The idea of addressing the planet's concerns and making skincare (something we're obsessed with!) a catalyst for generating positive impact with every single purchase, is what fuelled our collaboration with Waste Warriors. We want our consumers to know and believe that together, we can take small steps and contribute towards a healthier planet, that too by simply doing our skincare routine!