Meet the Founders
"The Mother & Son Duo"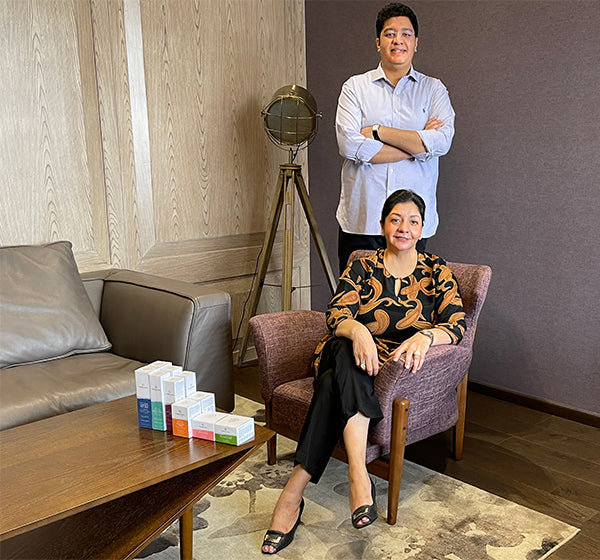 "Follow your passion, it will lead you to your purpose"- A saying that fits perfectly well with Ms. Rinku Syal, Founder & CEO of BE SOULFULL.

Having 20 years of rich experience in managing and running a successful travel brand, Hi-Tours, Ms. Syal always found herself inclined & fascinated by skincare or selfcare.

To delve deeper into the subject and find efficacious & transformative products, she took professional knowledge by doing a number of courses including Diploma in Organic Skincare from the UK. Later, she built a small home lab where she would create and customize her own formulations with natural ingredients for self, family & friends. The products were result-driven, hence her choicest few customers kept coming back for refills, over and over again.

Shedding light on her venture's inspiration, Ms. Syal says, "Trying to deal with my own skin problems and not finding any effective solution, I was let down by a vanity full of products claiming to be 'effective', 'allergen-free' & 'organic', but of no good. All I wanted was effective skincare I could trust and rely on and thus creating my own products was my way of pulling the gear. BE SOULFULL is everything I wanted as a customer- skincare made with clean, gentle yet effective ingredients, no nonsense marketing and a brand that understands the most common skincare concerns".
Rinku Syal
Founder & CEO
_______________
Co-Founder & CMO, Hunar Syal, a BSC graduate in Business Studies, has always been inclined towards technology & e-comm, is the force behind building BE SOULFULL. Having enough experience in creating brands across industries as diverse as travel & tourism, he is passionate about building authentic brands backed by technology and guarding their growth along the path.

A staunch believer of the fact- 'When we heal the earth, we heal ourselves!'- he says, "The goal is to create high quality skincare with incredible formulations, while saving our planet that is facing some of the most serious environmental issues, the rise of which can grossly affect our future generations.

The idea is to help people change the world just by doing their skincare routine. Building a beauty brand with a social impact first, is what I want 'BE SOULFULL' to be!"

Hunar Syal
Co-Founder & CMO
___________________